seingat aku - aku started using fountain pen sejak aku umur 11 tahun lagik - dat was when aku in Darjah 5. aku remember it was abah yang first introduced me such - and i wasnt dat keen of using it. abah used to tell me dat 'a man shld be using dis pen' and 'tulisan along lagik cantik kalo pakai pen ni', sort of. still - aku not dat keen. bg aku - hassled. the dakwat and such. aku rasa comot sgt.

bila masuk Darjah 6, Mr Letchumanan (mendiang) mula ngajar kelas aku. dia ajar BI - and sumer makhluk seantero alam kat Sek Rendah Kebangsaan (I) Jalan Menteri, Selama scared of him. his outlook pun dah cukup to make u terkincet dlm seluar. need not to wait till dia bukak mulut ant yell out loud at u. or take off his belt, make u bend down and spank ur arse wit it.
but dat was then. and dats the way it is. and aku - since takut giler; especially when he look at u thru his separuh jatuh (atas hidung) nye spek - aku really learn English. bukan tu je - kena rotan at yr betis. kena pukul at tapak tangan wit kayu ruler 1 meter yg cikgu2 dok guna tu.. na'uzubillah.
yet he was the one - beside abah; yg make me fall for dis fountain pen. Mr Letchumanan made everyone of us to buy a fountain pen, and the dakwat (no sharing!) and learn English. semua keje rumah dia, he made us do it using fountain pen. kalo tak bwk time kelas dis, siap la ko. and kalo keje rumah ko comot, kotor - baik la ko tak pyh dtg terus. kinda thgs like dat.
and aku ingat lagik bila aku pujuk abah to buy me one - since all dis while, abah kasik guna his fountain pen, and aku kena mintak and pulangkan balik - each time. and pernah few times aku lupa pulangkan his pen, siap terbawak pi skol. and for the rest of the day, aku rasa had dis rasa bersalah - wondering how and mcmana abah nak buat keje, while i was havin his pen wit me. and abah finally bought me one - my first fountain pen. tajuk 'Youth', Made in China. warna hijau. harga tak sampai RM6, tak silap aku. ofkoz - dat was then. years back. kerap aku buat muka moncong, since 'abah beli pen murah' and ngomel mcm2 kat abah.
aku nak pen Parker mcm yg abah punya.
and each time - abah will look at my face, and told me off dat 'murah ke, mahal ke.. sama je. along guna je la dulu, nanti dah besar abah beli lain'. and each time - he managed to shut me off wit dat. aku used dat pen sampai aku belajar upper secondary skol, until one day - aku realised dat tmpt dakwat pen tu dah bocor, and tudung pen plak dah retak.
sejak tu - aku suka guna fountain pen. be it kena isi dakwat, kena beli dakwat etc - i knw how to deal wit it well. tulisan aku look way much better (bg aku lah!), and aku love to hav dis kinda feeling in me - which aku tak tau mcmana nak describe - each time aku guna such pen, to write.
abes medicine, masuk keje - surprisingly - aku bought me one. abah belikan aku pen Parker Vector sepasang; exactly mcm pen yg abah guna - yang ball pen and a fountain pen. siap ada carved nama penuh aku lagik, and his name as well. i cldnt careless about the price, tho he told me once 'abah bagi ni, along guna la time keje.. murah je pun', and he smiled away. for God sake - aku cldnt careless about the price, and even tho aku selalu nampak those pen kat kaunter Parker, aku dun bother go asking the price. maybe since aku dah besar pjg neh - aku mula sedar hows the tot yg lbey penting way than anythg at all..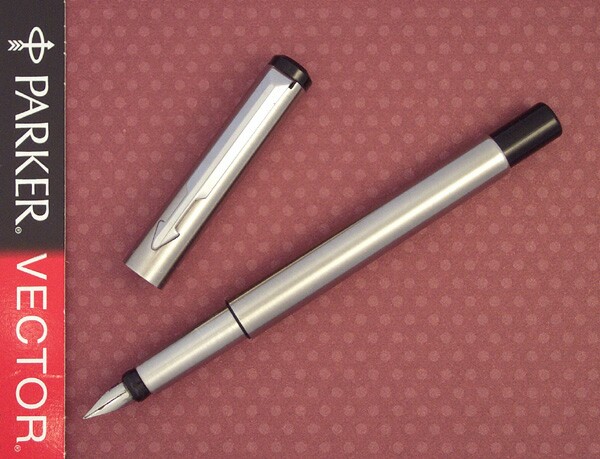 and for the rest of the years, aku used both of em - kursus, seeing patients, menulis et al. and aku stick to one brand of ink - Parker Quink, becoz dr awal lagi abah ckp, dat was the best ink available, affordable to use. and aku bwk both pen - esp the fountain one, all around - each of the working days.
until last week.
aku panic jap bila aku sedar yg dah few days aku tak nampak fountain pen aku. yg abah hadiah. wit my full name on it. aku cldnt find it anywhere at all - not at home. aku drove off to the office, hoping aku'd find it there somewhere in the office; but it aint. it was not there in work station, not there kat tempat pen/pensil aku, tadak dlm laci, and it wasnt there in my beg keje pun. and no where to be found. aku selongkar tempat baju2 keje aku yg nak basuh - hoping dat aku terlupa and it was still there kat poket baju keje, tp still tadak.
aku searched my car, my whole house. akd cldnt find it. yg ada cuma the ball pen - yg aku jarang2 guna. it is not the price - but its the pen itself, the memories in it - aku cldnt help to feel sdey and down for a while. aku never stop looking for it, every now and then. for it really means a lot to me. a whole wide world to me. aku terfikir nak beli another one, exactly like it - tp aku tau, it wldnt be the same. and i knw - it mght sounds funny for u, or perhaps it was nothg. but again - it mean a lot to me.
sigh.
now each time aku pegang pen nak buat keje - aku cant help to think y on earth i am holding dis pen, and not dat Parker pen. and dat out of place feeling. the 'dis is not right' kinda thang. maybe aku dah terbiasa.. maybe dah berthn2 aku've been using dat pen - day in and day out.
for time being - aku gotta learn to let go. perhaps, its about time la kot. dah lama aku guna pen abah bg tu - maybe takat tu je la rezeki aku to keep using it. maybe aku tercicir mana2. maybe one day, when aku no longer looking for it - aku'll find it back. and by not using it anymore, i knw dat it doesnt mean dat aku tak tau how to jaga my own thgs, esp dat hadiah dr abah. sometime - somethg is not meant for u, to be urs pun, like forever.

and i hav to learn to deal wit dis kinda weird feeling in me, now.
:-(